Join us for a sensational New Year's Eve on the Thames!
Since 1934, our luxurious boat on the Thames, Tattershall Castle, has played host to countless guests and occasions, and now to usher in 2024, is presenting a New Year's Eve celebration like no other!
Indulge in delicious flavour fusion canapés, accompanied by six champagne drinks tokens, all while immersing yourself in a truly unparalleled view of the renowned London New Year's Eve fireworks extravaganza. The evening will be an experience of a lifetime, one that will leave an unforgettable impression.
*This is strictly an 18+ event*
Tickets now on final release. Price: £399. If you would like to speak to a member of our team regarding the planning of your evening, make an enquiry with us today.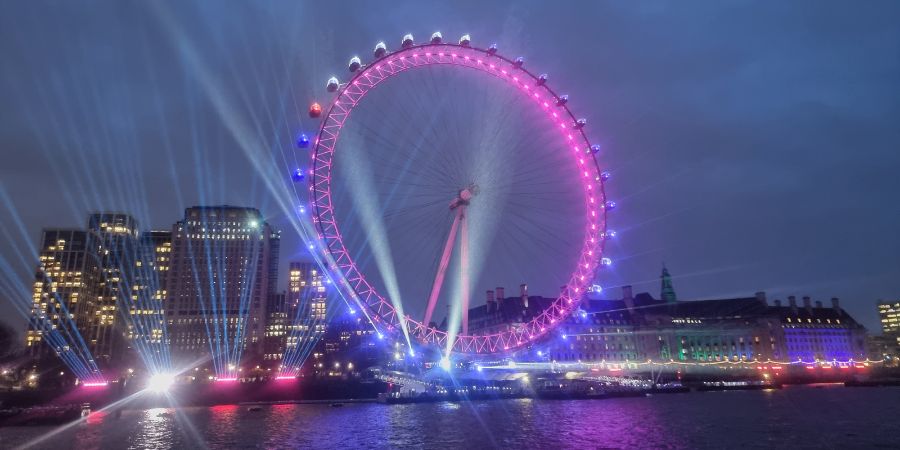 Breathtaking Views
Located directly opposite the London Eye, our historical venue offers breath-taking views of London, with an unrivalled outlook for the famous New Year's Eve fireworks.
Six Champagne Drinks Tokens
Sip on the finest selection of bubbly that is carefully selected to compliment your evening.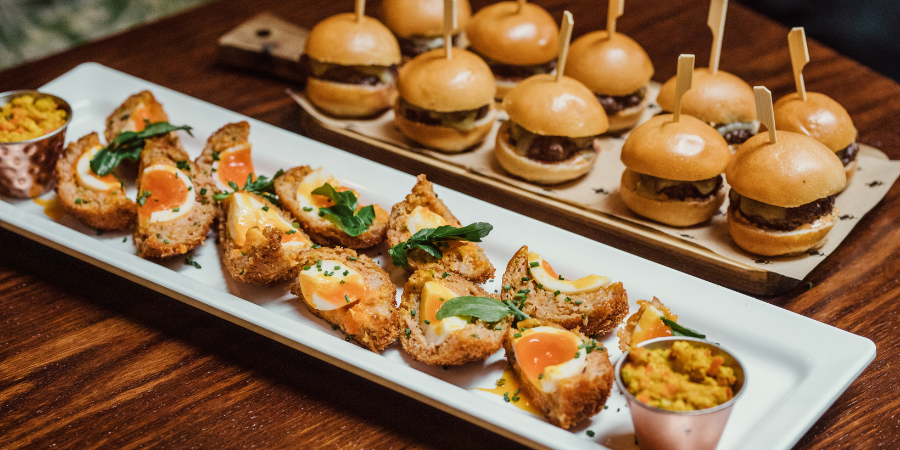 Spectacular Food
Prepare to indulge your taste buds with our spectacular canapé menu, carefully crafted by our talented chefs. Check out our fabulous menu below for more information.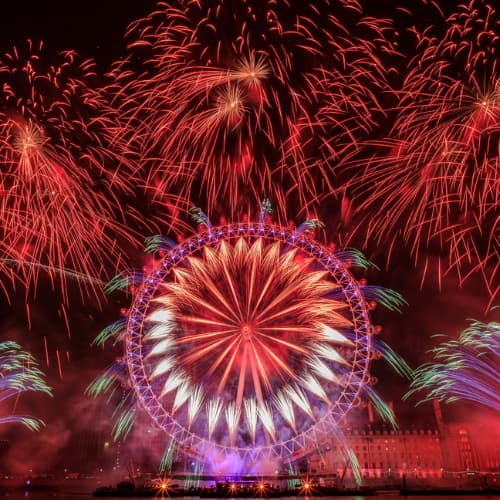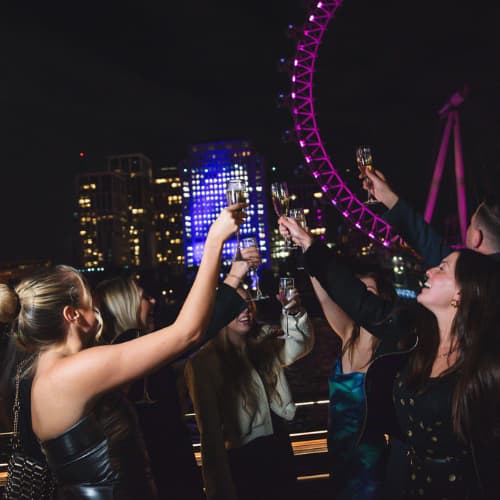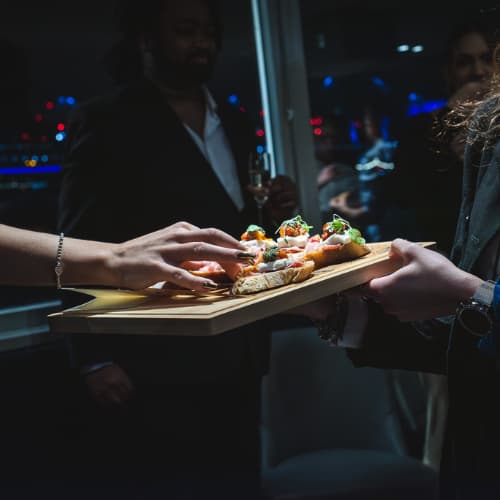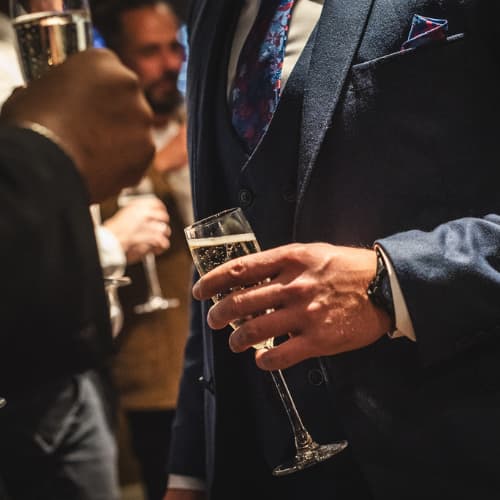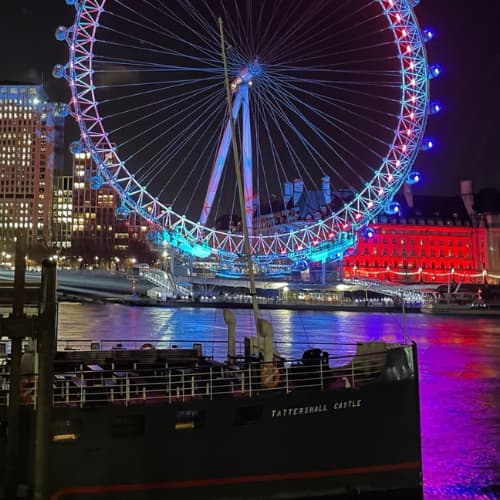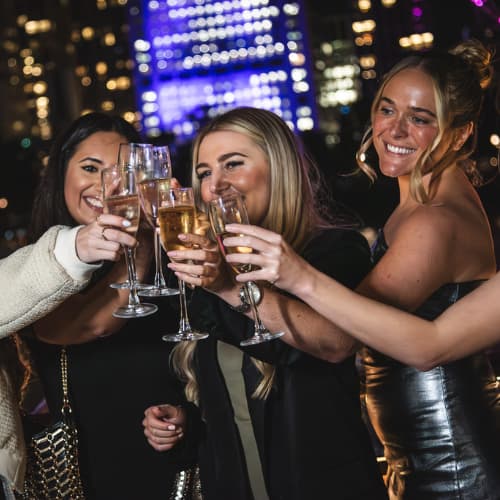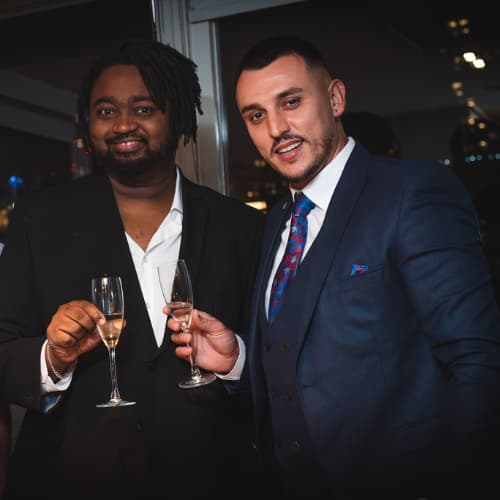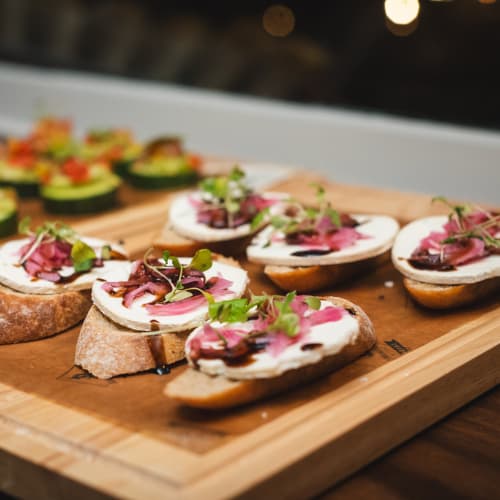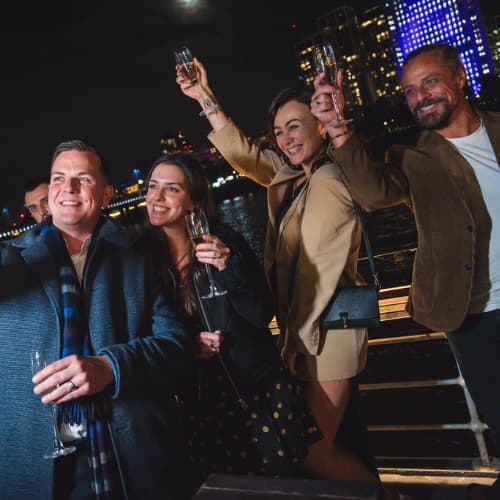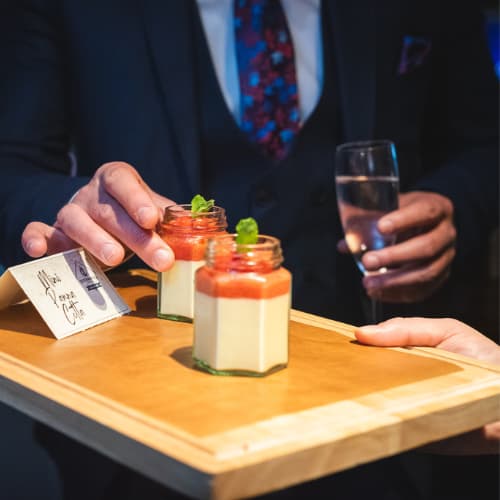 Let us answer any questions you may have.
FAQs
Food & Drink
• What is the menu for the evening?
A range of delicious canapés will be offered throughout the evening, please let us know if there are any specific allergies or requirements needed and we will do our best to accommodate. You can call us on 020 7839 6548 or email us at [email protected]
• Will there be food and drink available throughout the night?
Each ticket includes six champagne drinks tokens and canapés throughout the evening including a late night snack at around 12.30pm.
Event
• What is the dress code for the party?
The dress code is formal or semi-formal attire. Guests are encouraged to dress up for the occasion.
• What is included in the ticket price?
The ticket price includes six champagne drinks tokens and canapés from arrival until close. It also include entertainment such as live music, DJ performance, and an exclusive view of the London Firework Display.
• What time does the party start and end?
Our doors open from 7pm, last entry at 9pm and the party will finish at 3am.
• Can guests leave and re-enter the boat during the party?
Guests may leave and re-enter the boat during the early hours of the party however final entry is at 9pm.
Venue
• What is the address of the boat?
Victoria Embankment, London, Greater London, SW1A 2HR
• Is the boat stationary?
Yes, Tattershall castle is a stationary boat with a permanent mooring
• Is there a seating arrangement on the boat?
There is no formal seating arrangement on the boat however it can be added upon request. There is also unformal seating available on the boat for guests to relax and enjoy the views.
• Is there parking available near the boat?
Our nearest train/tube stations are Westminster, Charing Cross and Embankment, all located within a ten-minute walk. Due to the Mayor of London's NYE celebration please consider road closures, altered station opening times and access routes

For the most up to date information regarding station access for NYE please check tfl.gov.uk and london.gov.uk/events/london-new-years-eve-2023
• What happens if the weather is bad?
The party must go on! There is plenty of covered seating from which to enjoy the incredible views from.
Contact Us
If you would prefer to discuss your evening with our team, please call us on 020 7839 6548 and we will be delighted to help!
Alternatively, you can purchase your tickets online.